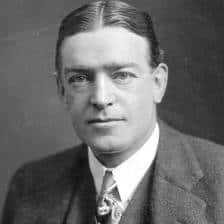 Based upon the extraordinary story of Sir Ernest Shackleton's Endurance Expedition to Antarctica in 1914, this program explores the reasons Shackleton has been called "the greatest leader that ever came on God's earth, bar none." Having saved the lives of twenty-seven men shipwrecked with him in the frozen seas of Antarctica, Shackleton's resilient leadership serves as a powerful example of how to develop the skill sets and processes required to increase individual, team, and organizational capacities to the highest level. Through a combination of historical case studies and small group discussions, participants will draw inspiration from Shackleton's example and examine their techniques and instincts for thinking clearly, acting decisively, and inspiring their teams to reach for new heights.
Who Should Attend?
The program helps shape the mindset and sharpens the skill sets of experienced leaders who are in the very midst of leading their teams through challenging environments.  It can be tailored to meet the needs of middle, senior and executive audiences and can be delivered in small or large group settings.  This program may also be adapted to meet the needs of newly appointed and even less experienced managers who would benefit from hitting the ground running successfully at this early "turn" in their careers.
Additional
On December 5, 1914, Sir Ernest H. Shackleton and 27 men under his command sailed from South Georgia Island in the South Atlantic aboard the ship Endurance. Since the South Pole had been reached a few years earlier by other polar explorers, Shackleton's goal was to be the first to traverse the continent by foot.
In January 1915, with Antarctica far off in the distance but in view, the Endurance became trapped in a sea of ice. For nine months, the ship and the men lay stranded in the frozen mass. Then in October 1915, the unthinkable happened:  the Endurance was crushed by sheets of heavy ice, and Shackleton and his crew were forced off the ship.  With his men's survival, not Antarctica, as his new goal, Shackleton began to focus his every effort on getting everyone back alive. The men salvaged what they could and camped on the surrounding ice flows for several months, surviving mostly on seals and penguins and sleeping on the cold wet ice and enduring unrelenting subzero temperatures.
In April of 1916, when the ice began to break up, Shackleton and his men set out in three life boats to find a distant island where whalers might be their only hope of rescue.  Upon landing on their only option – Elephant Island, after nearly 15 months at sea, the men were relieved to be on dry land.  However, Shackleton knew that this island offered no hope of rescue as whalers traditionally avoided it due to its uninhabitable topography.  In an act of true courage, Shackleton and five carefully selected members of the crew set out in one of the lifeboats on a heroic eight-hundred mile journey across the most treacherous seas known to the planet, to find South Georgia Island and seek help.
Miraculously, the six men found South Georgia but met many more obstacles upon reaching the island.  Four months later on August 31, 1916, 22 months since the launch of the expedition, Shackleton secured a loaner ship and guided it to Elephant Island to rescue the 22 men he left behind.
Unlike most of the other polar expeditions of similar travail, every man survived – not only in fairly good health, but also in good spirits – all due to the leadership skills of the leader.
Methodology & Delivery
Using case studies and a variety of multi-media resources to capture the essence of the Endurance Expedition, this classroom program provides relevant and practical knowledge and skills that that can be brought back to the workplace to achieve a winning edge in the market by building a winning culture within the organization.  The program is highly inspirational, fast paced and interactive.  Several leadership "tools" are provided during the session and attendees work though several exercises intended to maximize learning.  Participants develop their won 30-day "Shackleton Action Plan" to ensure transfer of knowledge and skills back to the job.
Leadership Elements Explored
This epic saga of survival provides a myriad of leadership elements for exploration and discussion, including how to:
Break clear of the past and focus on the present and future

Capitalize on change to take advantage of new opportunities

Create and communicate a clear vision for everyone to connect to and move forward

Keep focus on the "big picture"

Make better and faster decisions while avoiding "decision traps"

Mitigate risks in a fluid environment

Innovate and improvise when new solutions are required

Build trust at all levels

Cultivate a sense of compassion and responsibility for others

Develop leaders for the future

Lead with "emotional intelligence"

Hire the right people for the organization

Play to the strengths of each individual

Choose  the right team leaders and determine the best composition of teams

Create high levels of morale

Energize others with positive energy, persistence and "smart" optimism

Play your part to promote an "upbeat" environment for others to work in

Lead by example and  with visibility

Communicate strategically

Compete with others respectfully

Re-recruit pivotal talent

Become an inspiring leader
Benefits of Program
This inspiring leadership development program is sure to offer participants new perspectives on leading and motivating others during both difficult and calmer times.  The results are clearer vision for the organization, better and quicker decision making, greater unity and teamwork, higher levels of trust, better morale, and commitment instead of compliance – all having a positive impact on the attraction, development and retention of top talent and the achievement of business results.
Additional benefits include:
Greater Team Cohesion — In addition to gaining these benefits and experiencing new perspectives on leadership, group participants will also derive a greater esprit de corps.  When intact teams participate together and share a common experience, the result is highly impactful and can contribute greatly to achieving organizational alignment.
Tailored Customization — An important benefit to participants and organizations alike is when we customize the content of a program and/or place emphasis on a leadership aspect that has been deemed critical to the participating organization.  By gathering information from pre-session interviews or teleconferences with program sponsors and/or HR leaders, we can focus in on specific events, characters and dynamics of the battle and its leaders to make the program highly relevant and situational to all participants and the needs of that organization.  Additionally, our battlefield programs can be modified to use and integrate a company's respective core competencies and leadership models. Further, program agendas can be adjusted to meet specific time constraints and desires of the participant companies.